Search results in category Tanks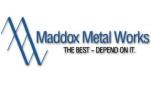 Maddox Metal Works, Inc. is a precision machining, gear cutting and sheet metal fabrications company headquartered in Dallas, Texas. Maddox has a diverse customer base, both domestic and international, covering food processing, snacks and baking.
212 South Mt. Zion Road
Lebanon, Indiana, United States, 46052
phone: view phone765-483-9514
9701 Renner Blvd - Suite 150
Lenexa, Kansas, United States, 66219
phone: view phone913-621-3700
FoodLine Piping Products Co
225 Edgewood Ave
West Berlin, New Jersey, United States, 08091-2615
phone: view phone856-767-1177
PO Box 549
Cary, Illinois, United States, 60013
phone: view phone814-342-0470
P.O. box 1685
Wausau, Wisconsin, United States, 54402-1
phone: view phone715-359-0200
PO Box 688
50 W. Pine Street
Philipsburg, Pennsylvania, United States, 16866
phone: view phone814-342-0461
Loeb Equipment & Appraisal Co.
4131 S. State Street
Chicago, Illinois, United States, 60609-2942
phone: view phone773-548-4131